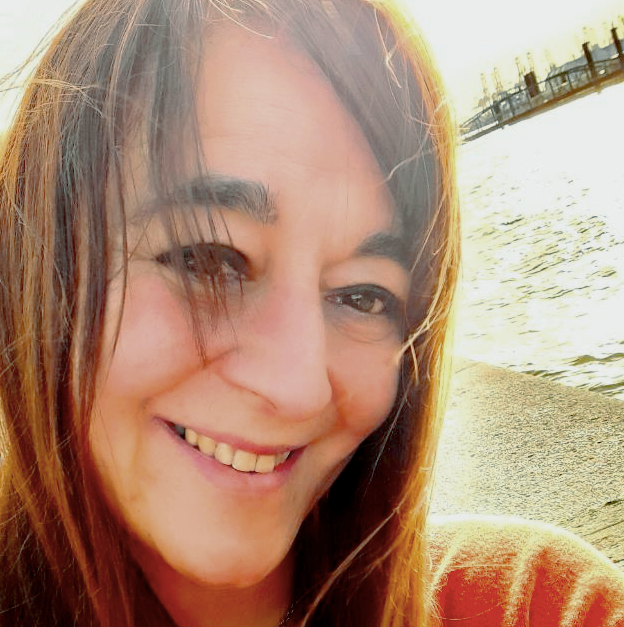 goodsforimpact.com
The founder
Christiana Kant
Create the things you wish existed...
has been my motto since I knew what a motto was. Since my Masters in Sociology and Sociology, my career path has lead me through many stages - starting with being a Mom in 1999, a PR-Assistant in New Media from 2001, founder of my Impact Café "Kaderschmiede" in Hamburg in 2007, becoming a solution-oriented coach in 2009 and a Housing Coordinator for Refugees in 2013, Manager of Germany's largest Refugee settlement in Hamburg in 2017 and Author of the self-coaching journal: "Addie Tjoode - My 30-Day Joy & Happiness Challenge in 2019. Always driven by my out of the box thinking brain and the purpose of inspiring and connecting people in order to enhance them in living up to their dreams.
In 2020, I finally made one of my biggest dreams come true and founded my NGO "Ministry of Impact e.V." with the support of about 40 people from all over the world - united by the idea of raising the awareness for environmental pollution in developing countries and the resources that can be found locally to repurpose to support waste reduction and at the same time create a livelihood.
In this process, I became aware of the fact that there is NO global platform to research for sustainable products and services.
To find out about a sustainable product or service, one needs to use a common search engine and only gets random results.
On other platforms like Instagram, I only get insights about sustainable products and services if I give them my like.
On the other hand, I spoke to sustainable Start-Ups and found out that they are finding it hard to place their products in an effective way of not only reaching their exact target group but also to extend it. They also claimed interest in matching up with targeted business partners and investors more effectively.
Thus, my idea of GOODSFORIMPACT.COM was born!
To have only ONE global digital platform to cover all these requirements and connect sustainable customers, entrepreneurs and companies as well as NGOs worldwide in order to:
1. create awareness for what is already there and working in the sustainability sector
2. make it easy for sustainable customers to find their desired product or service
3. make it easy for corporate sustainable stakeholders to (a) present their offer in an affordable and effective way and (b) open up effective networking options to further develop their business.
....and at the same time to fund our NGO with a percentage to enable more sustainable Start-Ups worldwide.
I am eager to now synchronise my professional and personal experience and channel all my passion to connect this world in sustainability in creating this amazing global platform:
2020 - now: Founder of goodsforimpact.com
The idea for my digital sustainable startup came up during the process of founding of my charitable global NGO "Ministry of Impact e.V" with sustainable brains from all over the world. I am currently in the seed stage looking for partners and investors.
2020 - now: Chairwoman of "Ministry of Impact"
Our charitable NGO "Ministry of Impact e.V." resulted of a global exchange of changemakers from all over the world during the pandemic. Its goal is to foster and connect sustainable projects worldwide: www. ministryofimpact.org.
2013 - now: Housing coordinator for refugees
During my time as a housing coordinator for refugees and homeless in Hamburg, Germany, it was always my purpose to create projects and events to connect refugees with their resources as well with the opportunities their new home offers for them.
Since 2009: Solution oriented systemic Coach
Always thinking solutions, I became a Solution oriented coach in 2009. I am working with private and corporate clients. My favourite method is "Constellations" - mounting my clients' issue as a play with toy figurines.
2007-2009: Social Entrepreneur
In 2007, I dared to found my first social Start-Up, the impact hub "Kaderschmiede Ottensen" - a café for social & business Networking (way before Facebook and Linkedin!) We hosted networking events, readings, concerts, fairs, fashion shows, markets - whatever came onto our minds to create more connectivity for creativity and business ideas.
since 1995: Travels to Africa and Asia
During my travels, I have found out about a lot of different approaches to tackle social and environmental issues in developing countries. I was impressed by quite a few - and still am! My goal is to spread the news about "what is already working", share it and create awareness for the good work already done on ground.
Let's do this together!
If you share my vision and are curious to learn more about my Start-Up idea: